News
Invito al Virtual Supply Chain Summit
Advance School è Media Partner del Virtual Suppply Chain Summit più grande di tutti i tempi che affronterà la tematica  "Preparing For The Recovery After Covid-19" .
Organizzato da Alcott Global, società di consulenza in ambito logistica e Supply Chain, si terrà online dal 16 al 18 Luglio e vedrà coinvolti 50 relatori provenienti da tutto il mondo, 12 gruppi di discussione e oltre 6000 partecipanti.
L'evento, che si terrà ONLINE, riunirà i leader e gli innovatori della Supply Chain provenienti da 6 regioni diverse del mondo per discutere dei concetti chiave, di approcci globali e di strategie specifiche regionali funzionali al recupero post era Covid-19.
L'evento, solo nelle prima settimana, ha visto la registrazione di oltre 4.000 partecipanti. Fino al 22 Giugno se ne sono aggiunti altri 1000. In totale, sono pronti per ospitarne 25.000.
6000 i partecipanti previsti, 50 speakers e membri, oltre 20 ore di contenuti: un evento globale dedicato a tutti quelli che operano in ambito Supply Chain.
6 i global topics affrontati:
- Supply Chain Resilience
- Supply Chain Visibility
- Designing Your Network Strategy
- Sales & Operations Planning
- Managing Risk And Disruption In Supply Chain
- Optimizing Modes & Routes
 
Ecco alcuni nomi tra i partecipanti: Bjorn Vang Jensen, Global VP Logistics a Electrolux, Robert Blackburn, Senior Vice President Operations di Stanley Black & Decker, Inc., Dott. Dirk Holbach, Chief Supply Chain Officer Laundry & Home Care di Henkel, Sabine Mueller, Chief Executive Officer di DHL Consulting, Harald Emberger, Chief Supply Chain Officer a Beiersdorf, e Richard Wilding, Professor of Supply Chain Strategy al Cranfield School of Management. 
Per avere uno sconto sul biglietto di 90 US$ contro 180 US$,  usate il nostro codice:  Nus90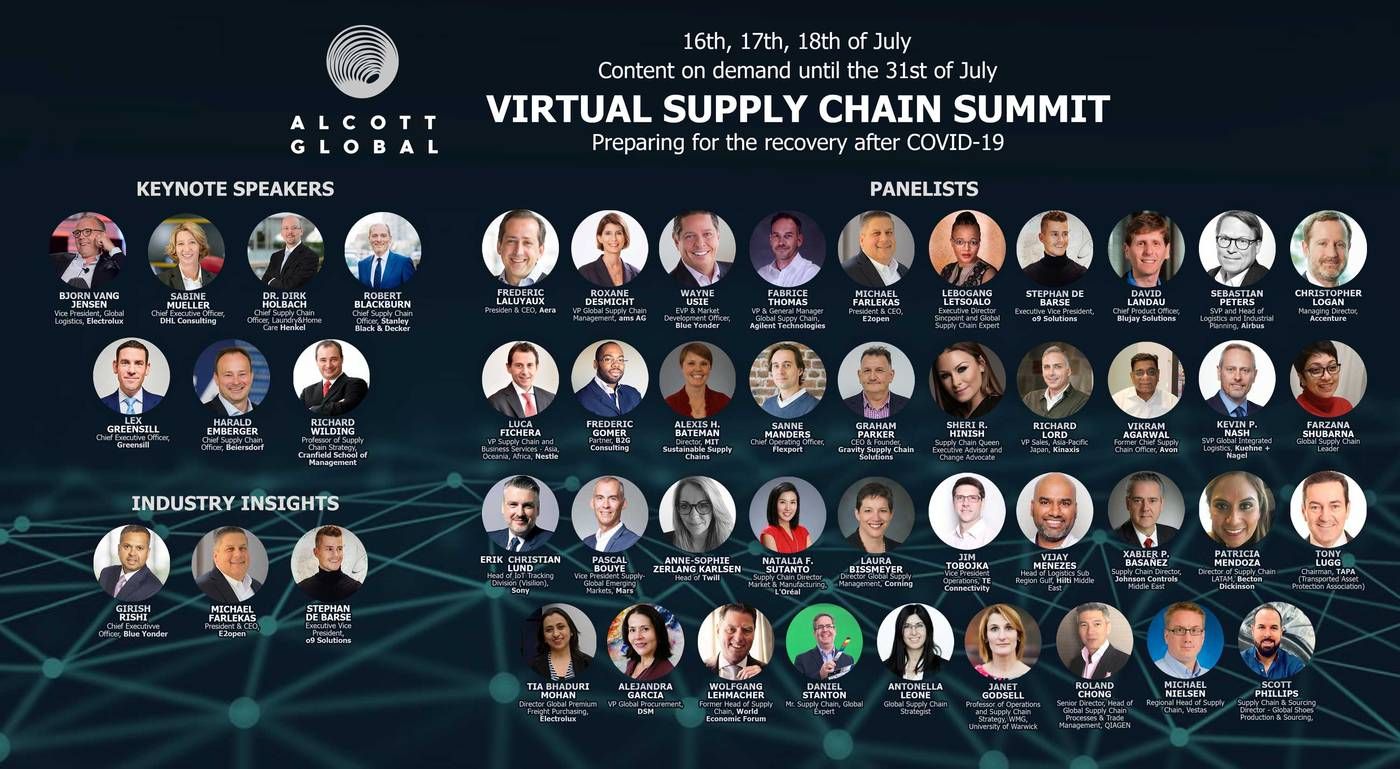 Vedi tutte »